If you've been blogging for any length of time, you probably have a lot of content on your site: blog posts, pages, custom post types, comments, images, and more. It's also probable that your most recent content is of a much higher quality than your older work, since your writing skills have likely improved substantially over the years. In fact, you might even be a bit embarrassed of your older blog posts since many of them may be outdated or of inferior quality compared to your more recent ones. This is a natural occurrence, and when you find this happening on your blog, that can only mean one thing: it's time for a content audit!
What is a Content Audit?
A content audit is a process where you systematically go through and audit all of the content on your website and evaluate it to make sure it's up to date, accurate, optimized, and meets your standards of quality (and Google's for best SEO). Ideally every page should have its content checked, updated, improved, and interlinked with other posts.
A website is a work in progress, it's always changing and evolving. Because of this, it's important to update and improve older content to reflect your brand, your message, and any needed changes to the topic you wrote about. This can also be very helpful for your ongoing SEO efforts, as Google likes older content to be updated and refreshed so it's not seen as outdated.
How to Conduct a Content Audit
Disclaimer: This process can be a LOT of work. Depending on how long you've been actively blogging and how many posts you've written over the years, an audit may take anywhere from several days to several months to complete.
There are a few ways to do a content audit, some are quick and easy, and others a bit more technical in nature. How you go about auditing your content will depend on several things: how many blog posts you have on your site, the quality of your older content, how technically savvy you are, and how much time you have to spend updating and improving outdated content. No matter if you have limited time or technical skill set, there are specific criteria you need to evaluate for each blog post or piece of content on your site. These include:
Determining if the post is still valuable to your readers
Checking for grammatical errors
Evaluating if the content is correctly optimized
Before you begin the actual audit of your site, you first need to take inventory of all your content. I recommend using a template for this.
Take a Content Inventory
There are many ways to conduct a content audit, but the first step in the process is to determine what content is on your site and if it actually needs to be updated or not. Once you know what and how much content is there, you can then prioritize which blog posts are most in need of improvement.
Content Audit Template
After you have taken inventory of your content archives, you need to prioritize those blog posts and pages that are most in need of an update. I've found the best way to manage this is by creating a template using a spreadsheet, and including separate rows and columns based on your improvement criteria.
Google Docs makes it really easy to create and mange your document so that others helping with the audit can collaborate with you and make changes to the document as needed. You can add as many rows or columns to the spreadsheet as you need, and cross off those posts once they have been updated.

Here's a simple content audit template that you can use and adapt as needed.
You might want to prioritize your content based on the 80/20 rule: Update and improve content on the top 20% of pages right away, then focus on the other 80% of your posts as time allows, but the choice of which posts you tackle first is up to you.
Once you've created a template to use for your audit, it's time to begin taking a complete inventory of your site. There are many ways to go about doing this, but I've found the following options to be the easiest.
WordPress Archive
If you're using WordPress (and if you're not, why aren't you?), the easiest way to take inventory is to manually go through each post on your site, starting with the oldest and working your way toward the newest content. For the non-tech savvy, this is probably the easiest way to view all of your blog posts and determine your next course of action. If you login to your WordPress dashboard, navigate to All Posts, and sort by oldest date, you can then see each post, starting with the oldest first, and begin checking each post individually to make sure it meets your criteria. Another option is to sort your posts by number of comments so you can focus on those with the least reader interaction, or sort based on SEO score if you're using the Yoast WordPress SEO plugin, so you can evaluate those posts with the lowest score.
XML Sitemap
Another option is to view your XML sitemap to see all the posts on your site that Google sees. (If your site doesn't have an XML sitemap, it really should, as this tells Google what content is on your site and that should be indexed.) If you're using the Yoast SEO plugin, an XML sitemap is created automatically for you. You can see what the Spears Marketing sitemap looks like here.
Google Analytics
Using Google Analytics to evaluate your blog's content will easily show you what kind of search traffic each post or page on your site is getting. Since GA can be a bit complicated to use, login to your Google Analytics account and navigate to Behavior > Site Content > All Pages. This will display all of the pages on your site and the traffic each one is currently getting. Pages which get the most search traffic *could* be an indication they're already optimized correctly, however, that doesn't mean you should skip over those posts, as they can still be improved upon.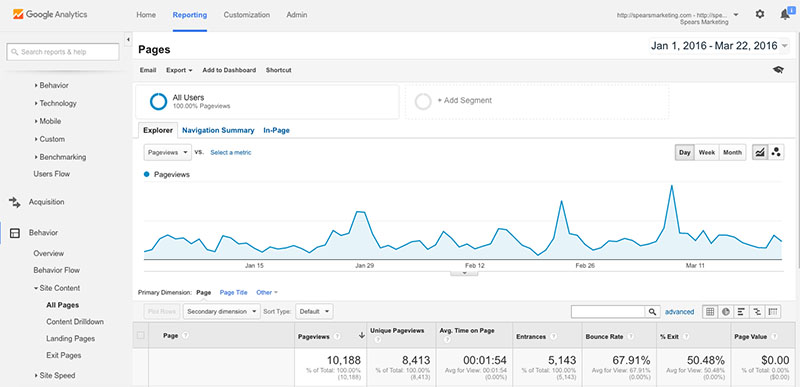 Shared Count
Shared Count is a service that looks up the number of times a given URL has been shared on major social networks. It's a really cool resource that will evaluate your entire site and sort your posts based on the number of social media shares. You can then export this list as a .CSV file and import it into your spreadsheet.
Screaming Frog
If you really want to get technical, Screaming Frog is a desktop application (for both Mac and Windows) that will crawl your entire site and evaluate it for content, images, duplication, and much more. It's an incredibly valuable SEO tool, but can be a bit harder to use for the un-tech savvy.
Once your content inventory is completed, make sure you export that data into a spreadsheet for analysis. If you're using Google Analytics, Shared Count, or Screaming Frog to pull your list of posts, you can export the list as a .CSV file and import it into your spreadsheet.
If you're not the spreadsheet type, there is a WordPress plugin created for auditing content. It adds labels to each of your posts based on criteria you set (which I'll explain below) so that you can prioritize which to update first.
Remember, all this data from your content inventory will need to be analyzed individually to determine which posts need to be changed and which can remain intact as-is.
How to Grade & Rank Your Content
Now that you have an inventory of all your content in a spreadsheet, it's time to evaluate what changes need to be made to each post or page. Ranking or grading your content will enable you to prioritize which posts are most in need of improvement and drastically speed up the update process.
As you're meticulously analyzing each blog post, you should ask yourself the following questions:
Is this content valuable, original, and relevant to my readers?
Is the content long enough (more than 600 words)?
Are there any grammatical errors?
Is the post formatted correctly without excessive code and markup?
Does this post use the correct keyword phrase I'm targeting?
Is the SEO title optimized and at least 55 characters but less than 70 characters?
Is the meta description enticing and less than 160 characters?
Is the post outlined and structured so it's easy to read?
Does the content include internal links to other relevant posts?
Does the post link to any relevant external articles?
Are there any broken links in the post?
Is the article duplicated anywhere else on my blog or elsewhere?
The above questions will help you analyze and determine what changes need to be made. I like to add a column in my spreadsheet that lists what change(s) are needed. You can label these however you prefer, but I've found five options that seem to cover pretty much every piece of content on your website. They are:
Leave As-is
Update & Improve
Consolidate
Repurpose
Delete
These categories should cover every piece of content on your site, and using them will make it much easier to make necessary changes moving forward.
Leave As Is
This category is pretty self explanatory and is the one we hope to have the majority of blog posts fall under, however, if you haven't made a practice of updating and improving your older content on a regular basis, it tends to be the category that the fewest fall into at the beginning. That being said, your most recent posts are the most likely to be left "as is", since your current practices and standards should ensure they are of the highest quality.
Posts that you leave "as is" should be "evergreen", grammatically correct, factually accurate, categorized appropriately, interlinked with other relevant posts on-site, link to applicable articles off-site, structured using proper headings & tags, have a featured image, and are SEO optimized for title, keyword phrase, meta description, and URL slug. If a post doesn't meet these criteria, then it should be placed in the "update and improve "category.
Update & Improve
Everyone has posts that need a refresh, everything from changing outdated info, adding new or improved pictures, lengthening the article, or fixing broken links. Most blog posts tend to fall into this category, since there is always something that can be improved upon. You'll definitely want to prioritize the content you update first, since it's easy for the majority of your pages to get labeled as "update & improve."
Your goal should be to make every post "evergreen".  An evergreen blog post is one that is just as relevant today as it was two years ago. If your posts are written about time sensitive events, that content will most likely not be relevant to your readers moving forward.
Make sure to follow the best practices for search engine optimization, categorization, and content length.
Consolidate
If you have two or more blog posts about a given topic which are very similar in content and keyword phrases, it's possible they're diluting each other's SEO juice. Since we obviously don't want that to happen, it can sometimes make sense to consolidate these posts into one authoritative post on the topic. This could become a piece of cornerstone content.
Google prefers longer content to short, so if you have a couple of posts that are a lot alike but not very long, this is another good reason to consolidate multiple posts into a single one.
Make sure that when you consolidate two or more posts into one, you keep the one which is getting the most search engine traffic and has the most comments and social media shares. This will help preserve it's current ranking and social proof and should help it to grow faster moving forward. You'll also want to delete and 301 redirect the other posts to your newly updated one to help preserve any link juice and so you don't generate 404 content not found errors.
Repurpose
Have you ever written a sponsored post, blog roundup, or link carnival? For most bloggers starting out, these are all very popular methods of gaining new readers, links from other sites, and monetizing your site. While it's OK to write these types of posts when you're a newbie blogger trying to learn the ropes and grow your audience, over time these are seen as unprofessional and provide no real value to your loyal readers (and new ones just finding you). They're also not "evergreen", which is something you should strive for with every post you write.
So what should you do with these outdated blog posts? Repurpose them, of course! If you have a post that a sponsor paid you to write about a specific topic, I'd recommend converting that post into an objective review of the product and link to it through an affiliate link (so that you'll earn a percentage of whatever is purchased through your link). This type of post is of much greater value to potential readers, since searching for "product name review" is a pretty common practice.
Blog roundups and link carnival posts should also be turned into a completely new article that creates some value for your readers. (There is some evidence that blog carnivals and link roundups can hurt your search engine ranking, which is another reason to get rid of them!)
Delete
Once you've gone through all your content and have determined which posts to consolidate and which to repurpose, there may still be a few that you're not able to salvage in any way. When this is the case, your only option is to delete these old posts (this should always be your last resort) and create 301 redirects to somewhere else on your site. This needs to be done very carefully, since once you delete a blog post and empty the trash, you can't get the post or comments associated with it back (without an extraordinary amount of effort, anyway).
If you have a lot of very short blog posts (less than 400 words) that are nothing more than a quick status update, I'd probably recommend deleting these, as the effort may be too great to repurpose into something else. Just make sure that whenever you delete a post to always redirect it somewhere else on your site so that it won't give a 404 error to someone who lands on it by accident or via a click through from another site. Here is an excellent tutorial on how to properly delete pages from your site.
Now that you have taken inventory of all the content on your site, created your content audit spreadsheet, graded and labeled every post using the criteria mentioned above, it's now time to start updating and implementing to optimize your posts!
How to Correctly Structure & Optimize Each Blog Post
The purpose of your content audit is to identify the low hanging fruit that can be improved on your site. This typically includes a lot of updating of old blog posts, and writing new ones to fill in holes.
While everyone's criteria for creating the perfect blog post is different, mine is based on providing the best user experience and optimizing for Google, which I explained in detail here.
The first step is to format each post as an outline. Not only will this make your writing process much quicker and easier, but a post written as an outline is easier to read and for Google to comprehend. This outline will translate into the structure of your post. Use heading tags (h2, h3, h4) as needed, along with ordered and unordered lists (bulleted and numbered). With each post, you'll need to carefully decide on each of these factors for best readability and search engine exposure:
Title: make it catchy and clickable using keywords and correct length
URL: short and sweet using title keyword(s)
SEO Title: can be different than the actual title; 55 characters is ideal
Meta Description: explain the post using title keyword(s); 160 characters or less
Focus Keyword/Phrase: don't duplicate this on other posts or pages
Heading Tags: only one h1 per post (should be the title). Use h2, h3, & h4 to structure
Images: at least one per post, always use alt and title tags, & set a featured image
Internal Links: you should link to other relevant posts on your site; don't over do it
Unique Content: every post should be unique and not duplicated anywhere else
Each post should be a minimum of 600 words for best SEO, but 1200+ is ideal. As a general rule, don't write about a topic if you can't find at least 600 words to say about it, but don't stretch it just to make it longer if it doesn't flow naturally.
As You Write, Remember These Best Practices:
Don't bold your heading tags. This should happen by default in your theme's stylesheet.
Check the formatting of quotes and blockquotes.
Make sure each post has a featured image.
Improve interlinking of all posts. Older content probably does not have as many links to other posts as they should, so you should link to relevant newer posts as you write them.
Reduce interlinking of the same post. Linking to the same post multiple times in a single article is redundant, so reduce the number as appropriate.
Keep your affiliate link density low. Too many outbound affiliate links in a post that go to the same item is not ideal. Reduce this number down to less than three times per post.
This is a matter of personal preference, but internal links should open in the same window, and external links should open in a new window.
Minimize use of Categories and Tags. Each post should ideally only fall under one category. Never create a tag unless it will be used on at least 5 posts.
Yoast's WP SEO plugin offers a very convenient bulk editing tool where you can view your SEO settings and make changes as needed. The primary fields to worry about (other than the actual in post content) is the Title, Focus Keyword/Phrase, and the Meta Description.
Other Content Audit Options
While this post is primarily focused on auditing your blog post content, if you're feeling brave, I'd recommend some additional improvements as well. Improving your categories and tags, checking your entire site and fixing all broken links, and only using top quality plugins will go a long way towards speeding up your website and improving the user experience, which Google and your readers will thank you for!
Also, a great tool to check out is The Blog Fixer, an automated service that can analyze your site and fix many technical issues that might be plaguing it's performance.
Additional Reading
If you'd like some additional information on content auditing, check out these posts:
Ready to start auditing your content or do you still have questions about the appropriate steps to take?