It's been a long time in the making, but Spears Marketing has finally gotten a website facelift! Since we began bringing on clients over two years ago, our site design has remained basically the same, with only a few minor updates as the need arose.
We've spent so much time helping clients establish an attractive web presence, that we had neglected our own site for too long. Well, that has now changed (Not the part about helping clients:) )
Remember this old design?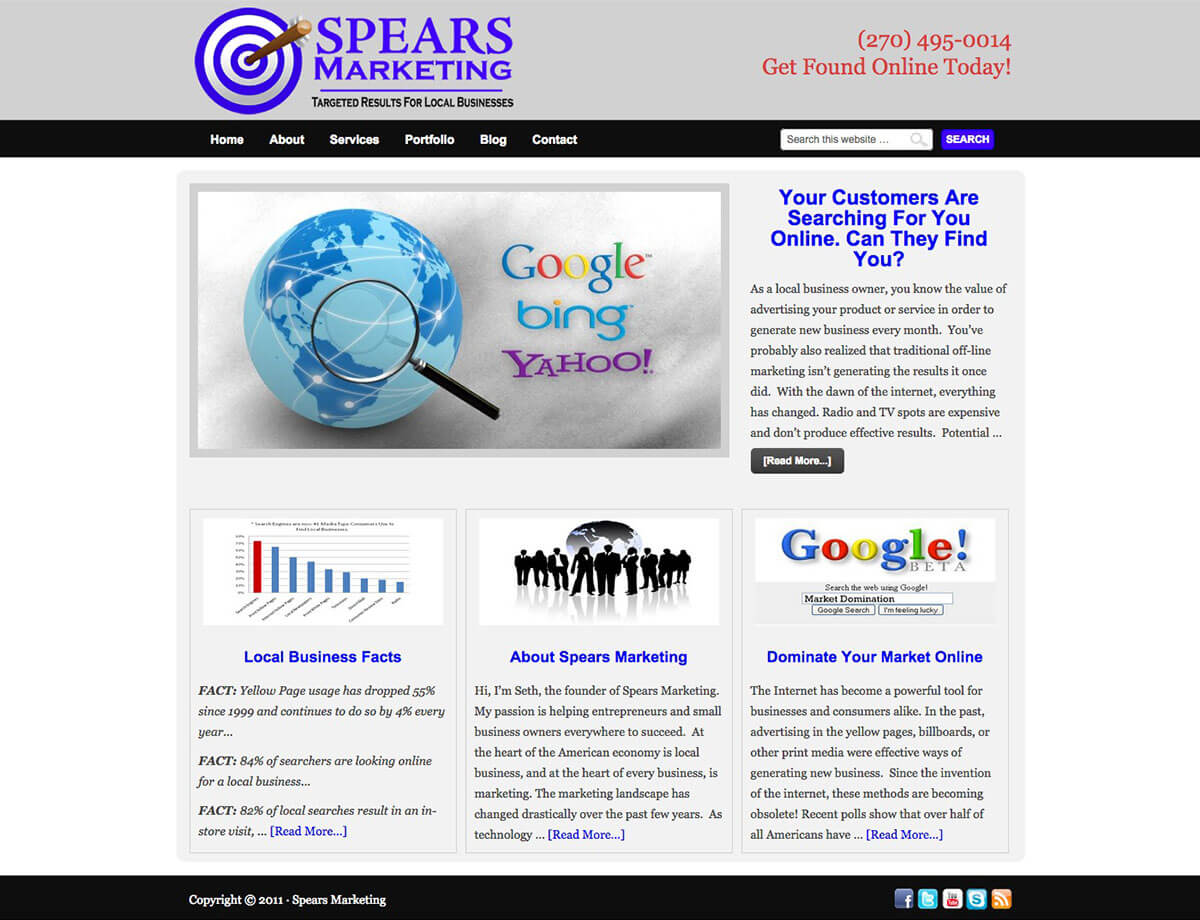 While still a work in progress, and other than the VERY obvious design change, here's a few of the new features that we're really excited about.
Responsive Design
One of the biggest changes is the new responsive design layout. If you're reading this on a desktop or laptop computer, you won't notice this feature unless your browser is shrunk down to less than 960 pixels. Check out how the site looks on your iPad, iPhone, or other mobile device. You'll see that all the content, text, graphics, video, etc., will "respond" to your browser size and adjust accordingly. So no matter what device you use to access SpearsMarketing.com, you'll get the same user experience. All the content stays the same, but the display of the content adjusts to your specific browser size and dimensions.
Updated Portfolio
Our original portfolio page was looking kind of bland, so we've improved the look and layout of the new page to better represent our work. Not only is it more visually appealing, but it's a better showcase of our most recent projects. We'll be updating this further as time goes on, including short write-ups about each individual project. Go ahead, check it out. I'll wait.
Core Services
We've narrowed down our core services to better serve our clients. As we're always telling our consulting clients, you can't be all things to all people. Focus on your strengths, and get rid of the superfluous. We'll, we've taken our own advice and have reduced our core services to those which we're REALLY good at. While we'll still be providing some of the old ones for current clients still using them, we'll only be focusing on our primary ones going forward:
Strategic Marketing Consulting
WordPress Website Design
Local Search Engine Optimization
Social Media Marketing & Consulting
Small Business Mobile App Development
Digital Marketing Audits
Still to Come
We've got a lot more updates to come, many of which we're still working on. A few of these are:
Updated Resources Page
-We'll be updating and improving our digital marketing resources page, with more info and resources to help you grow your business online.
Reviews
-We're going to begin reviewing products and services that can help you leverage your time and dollars. You'll get the good, bad, and the ugly.
Regular Blogging
-We'll be blogging more regularly, with more tips, tools, and digital marketing advice to help you grow your business.
Please leave us a comment below about the new site design. Likes, dislikes, suggestions, etc. are all fair game. And stay tuned. The best is yet to come!