This post was published in April of 2014 shortly after Rainmaker was released. The pricing has increased along with many additional features and functionality that make it even better. I'll be writing an updated review very soon.
I've been eagerly awaiting the release of the New Rainmaker Platform for months. Billed as "a hosted turn-key online marketing and digital sales platform designed to give you everything you need to build your business by building an audience," It's the exact tools that Copyblogger Media has used to build an amazing media, marketing, and software company. Brian Clark, founder and CEO of Copyblogger, compares the platform to Hubspot, but built on WordPress, and without the ridiculous price tag.
My own description would be a cross between Hubspot, Kajabi, Lead Pages, and Optimize Press. The power of Hubspot's analytics and marketing automation, simplicity of use for membership and training courses of Kajabi, convenience of landing page creation of LeadPages, versatility of Optimize Press, and the SEO & social media awesomeness of WordPress.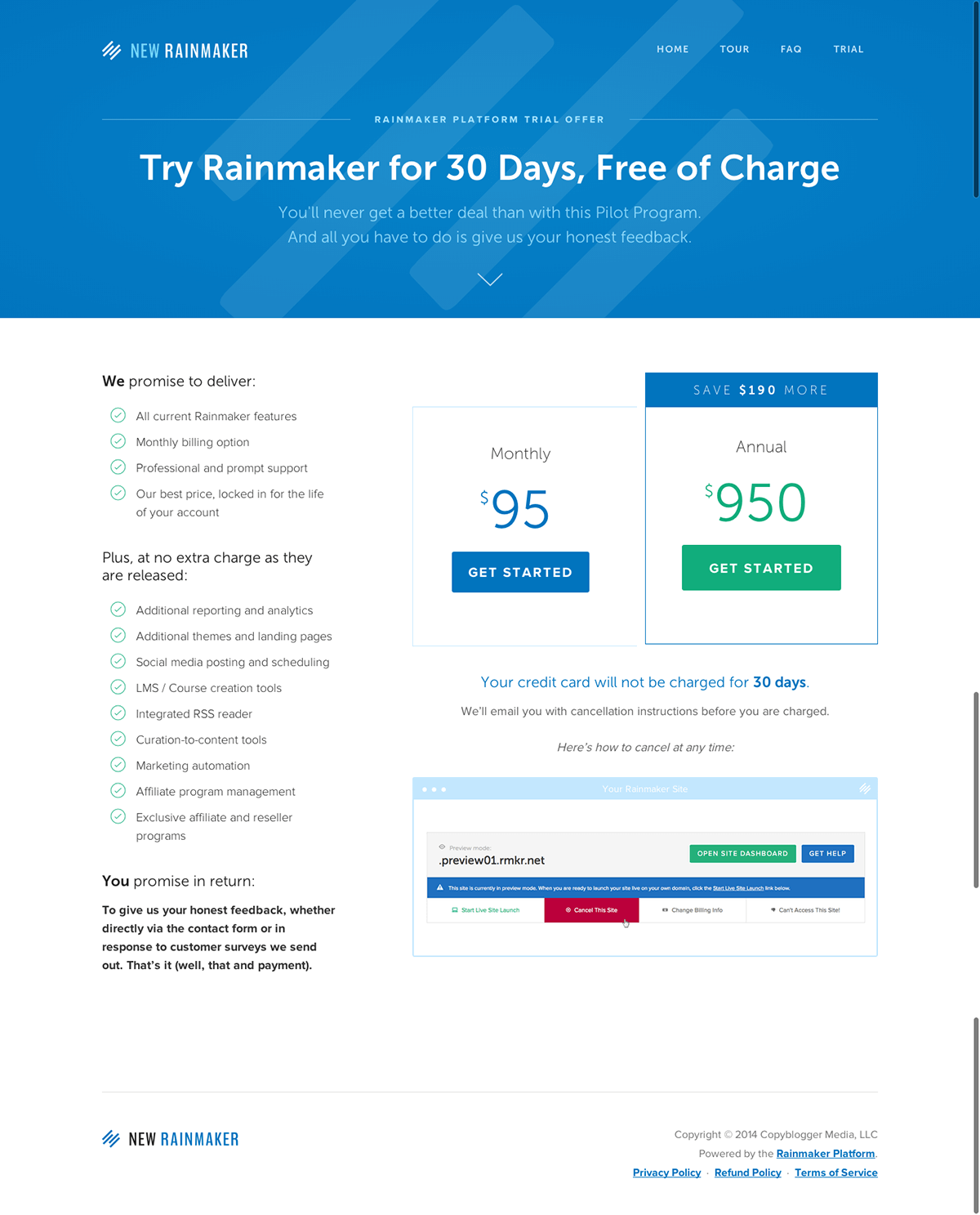 New Rainmaker First Impressions
The following are my initial impressions, from signup through usage of all the dashboard options.
The initial setup is clear, concise, and very user friendly. No confusing options and everything is explained in detail.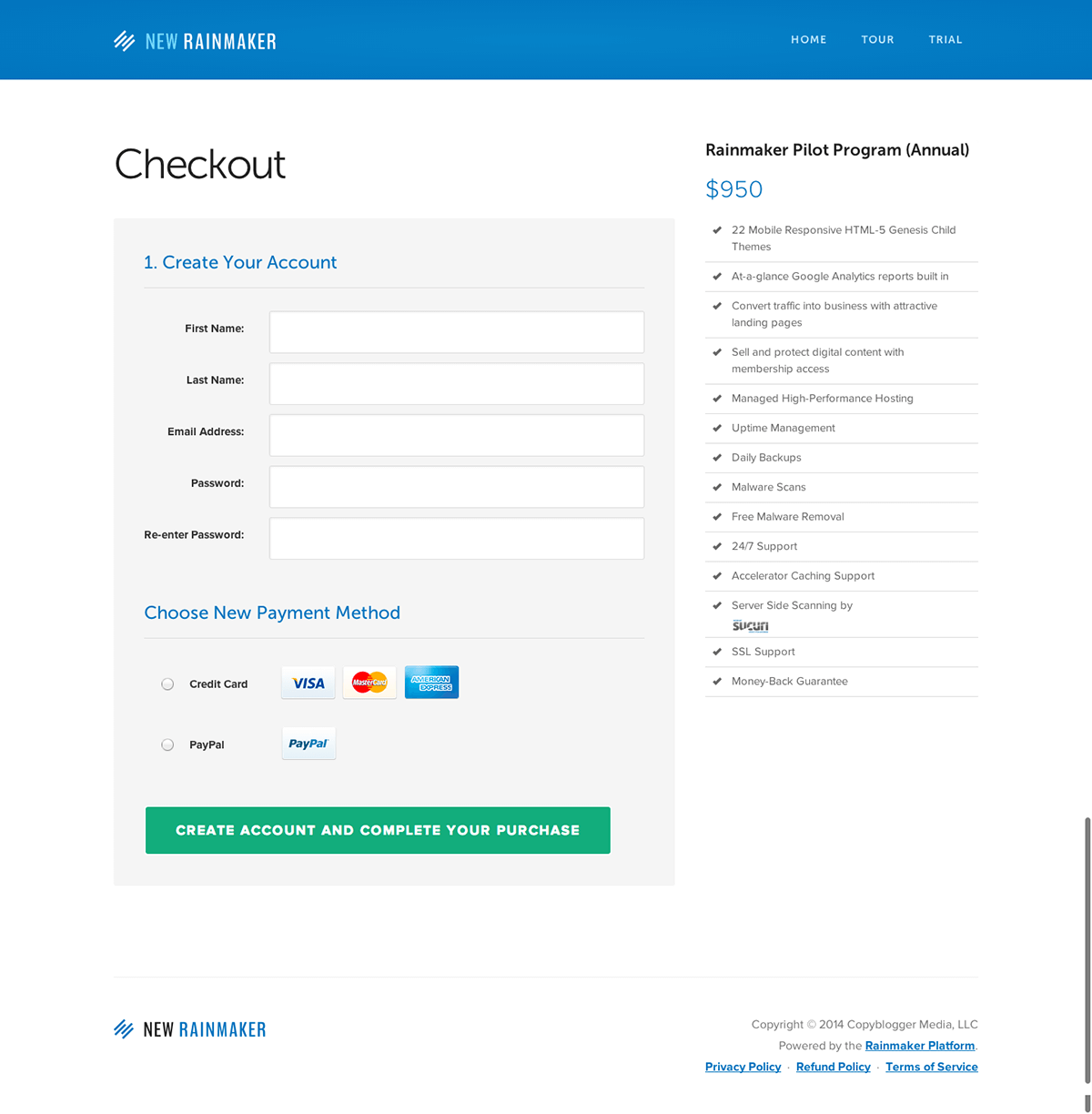 Once I had completed the signup process, I received a confirmation email that payment had been processed and I could log into the customer portal area. The portal is where you access your site, account info, billing, and customer support.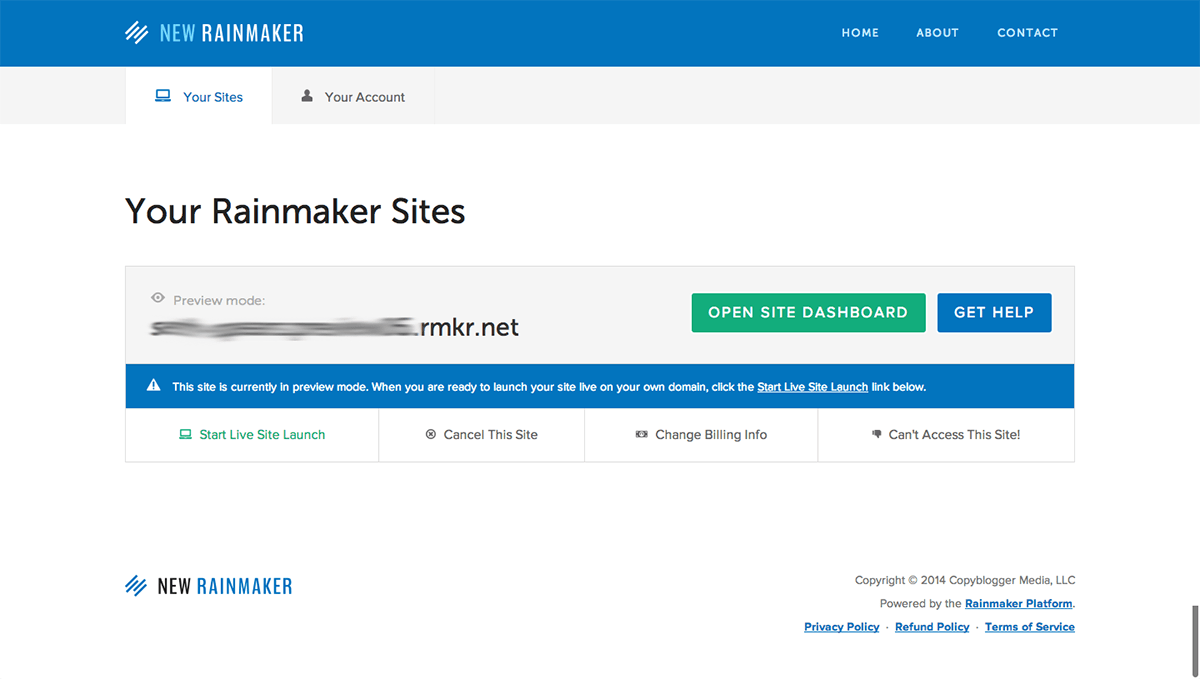 Dashboard
I immediately logged into the dashboard of my New Rainmaker site. The interface is gorgeous! One of my largest complains about the WordPress dashboard is that for new users, as simple as it is for those of us using it on a daily basis, it still has too many options and isn't as clean or user friendly as it could/should be. No such issues here. The typography, readability, and guided tour walkthrough left me with a sense of "this is easy, anybody can do this!"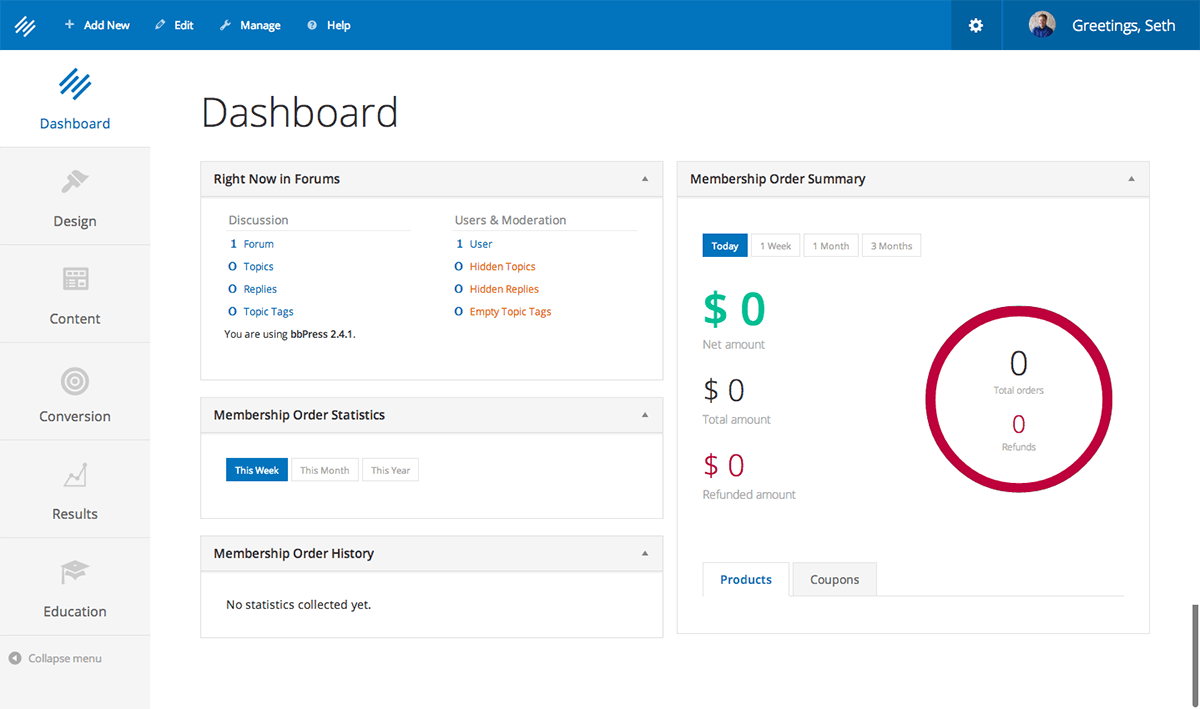 Help Section
One of the nice things within the dashboard is the help section, which includes a Knowledge Base, Guided Tours, Get Help/Customer Support, and a link to your Account Portal. All of these resources are readily available via the "help" button on the top admin bar. You can navigate the different sections, or search for a specific question via the search box. Very convenient.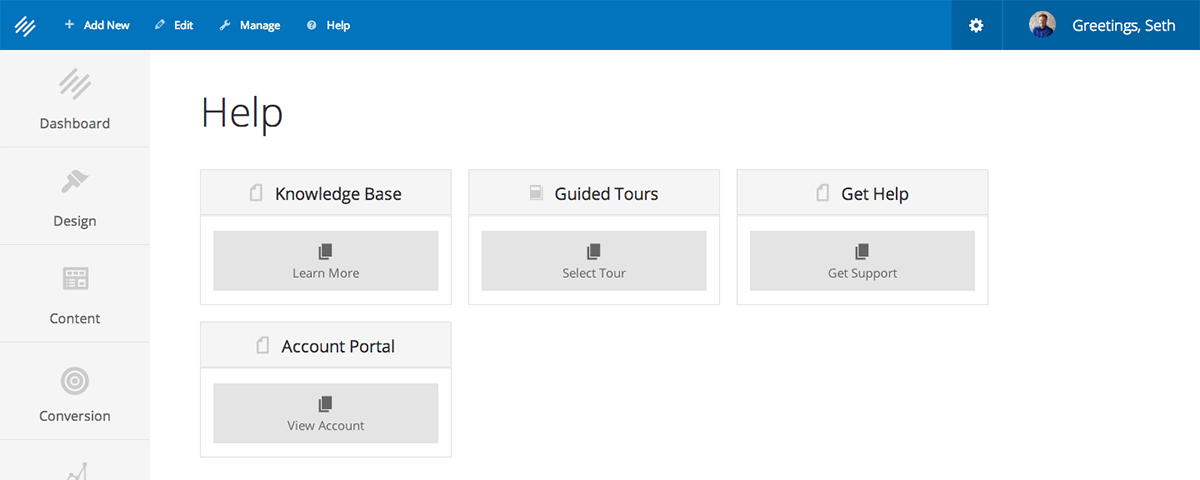 Knowledge Base:
The knowledge base is extremely helpful for first-time users of New Rainmaker, or those unfamiliar with WordPress. There is an overview about each section of the platform which makes it easy to get your questions answered when confused. You can also search through all the topics via the handy search box at the top of the page.
Guided Tours
When you log into the dashboard for the first time, you're automatically guided through a site tour, showing and explaining where everything is and how to use it. First time users will REALLY appreciate this.
Get Help/Support
If you're unable to find an answer to your question(s) via the knowledge base or guided tour, this is where you fill out an official support request.
Final thoughts on the Help section
This is probably one of the best built in features of New Rainmaker. It's so easy to find an answer to your question about the platform and if you can't, getting support is only an email away.
Design
Under the "Design" section, there are multiple options to choose from in setting up and customizing your site: Themes, Appearance, Menus, Content Areas, Slider, Dynamic Sidebars, Custom CSS, Forms, Maintenance Mode, and Social Sharing. All of these "sub sections" can be rearranged via drag and drop function so that you can change the placement of them to your own preference.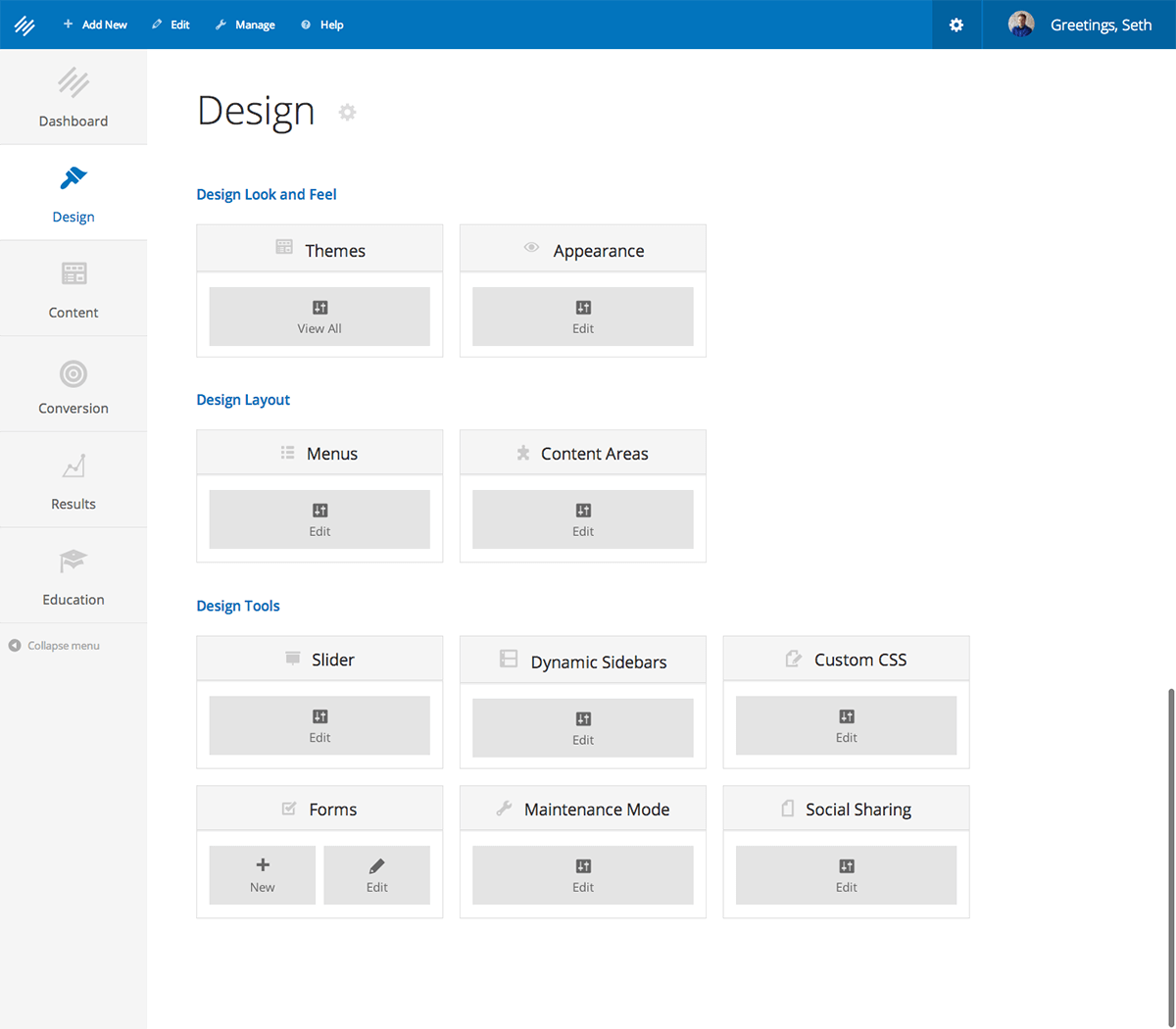 Themes:
When you go to the "Themes" section of the dashboard it gives you the option to import demo content into the widget areas. How convenient! For someone new to WordPress, this is a great feature so they can see exactly where and how content can be used within the default widget areas. Since all the theme options are Genesis Pro themes from StudioPress, when importing dummy content it sets up the site exactly as the theme demos.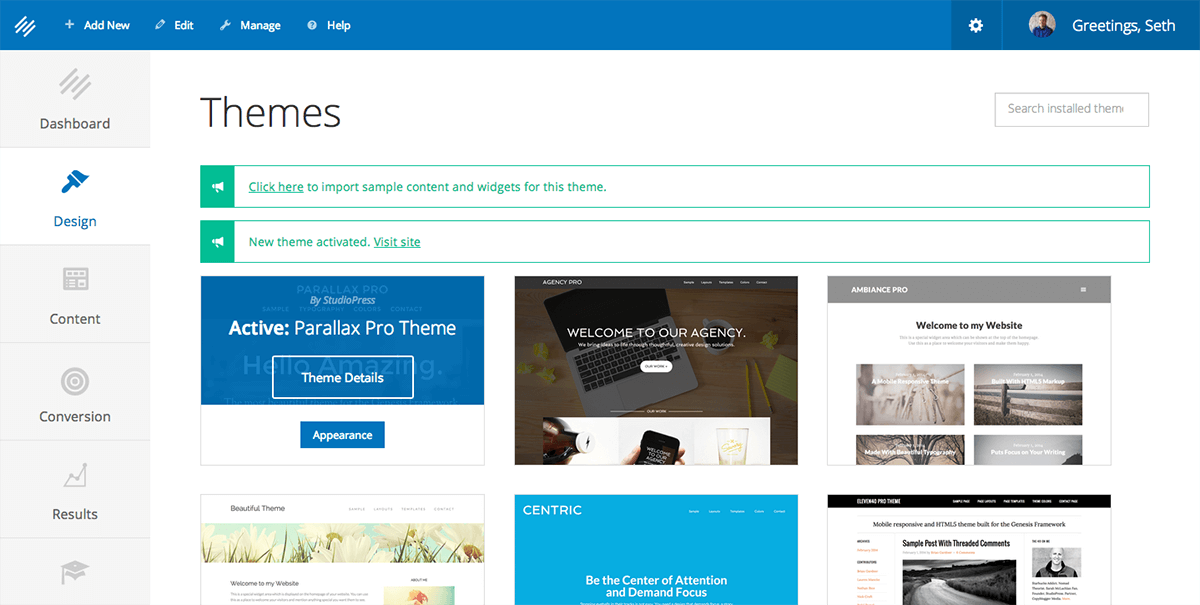 Appearance:
This option makes use of the WordPress customizer. You can choose a favicon, upload a custom header, change the site title & tagline, choose background image(s), set navigation menus, choose what displays on the home/front page, adjust entry/meta info, and customize the footer.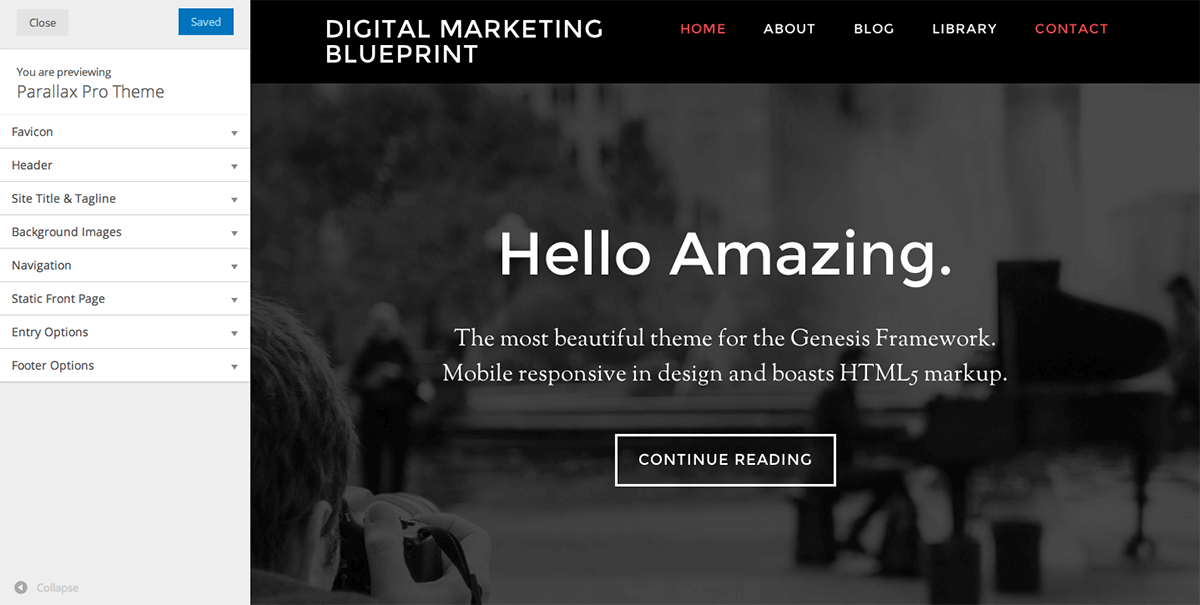 Menus:
The menus section of the dashboard is very similar to the standard WordPress menu settings page, but slimmed down and cleaned up slightly.
Content Areas:
This is the renamed WordPress widget settings page. In my opinion, it's a much better name than the standard WP naming. I was somewhat surprised that the individual widget options had not been renamed to more easily identify what they do. Example: if someone is not familiar with WordPress & Genesis already, they probably will not know that Genesis eNews Extended is an email signup plugin widget. I'm also surprised that the Calendar and Tag Cloud widgets haven't been removed.
Slider:
The built in slider option appears to be using the Genesis Responsive Slider plugin, which I think is somewhat limiting, as you can only choose from one type of taxonomy or post type. Soliloquy would have been a much better choice in my opinion, as you can directly upload pictures and choose any number of linking options. The Genesis Responsive Slider is just too limiting. You have the choice of choosing to include/exclude by post ID, but many users will not know where or how to find the post ID.
Dynamic Sidebars:
This is a great idea, but could use some additional explanation on it's usage directly on the page. It also asks for an ID, and again, many users will not know how to find this.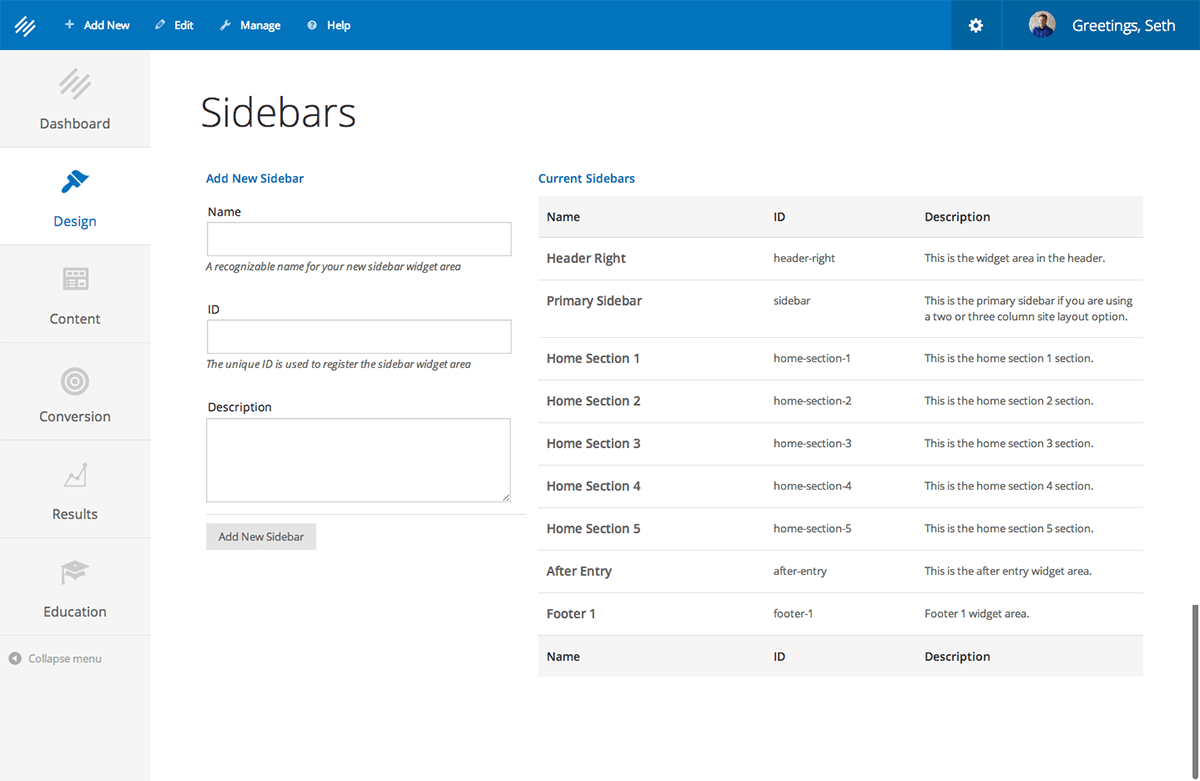 Custom CSS:
For those who want to get their hands dirty customizing the CSS of their chosen theme, this is where you do it. My guess is that most users will not be utilizing this section, but for those who want something more than the default themes provided, this is a great option to have.
Forms:
I was surprised the New Rainmaker Platform appears to be using Ninja Forms, as all of the StudioPress themes have always made use of Gravity Forms in the past. The form settings and options are pretty straight forward. Not as many options and conditional logic as Gravity Forms (which I'm much more familiar with), but it's simple enough for new users to get the hang of.
One thing about this section that I found odd is when I click to create a new form, I'm taken out of the "Design" section and into the "Content" section.

Maintenance Mode:
This is an option that every WordPress install should come bundled with. Simple and easy. The options to choose from are: Maintenance Mode Off, Sales Page, and Coming Soon. You also have the ability to select a minimum user level to access the site when enabled.
One strange thing is that only on the Maintenance Mode screen did the top dashboard navigation show up. I like the idea, but it should give the option to go back to the prior screen, not list all the options as they are already laid out in the left sidebar.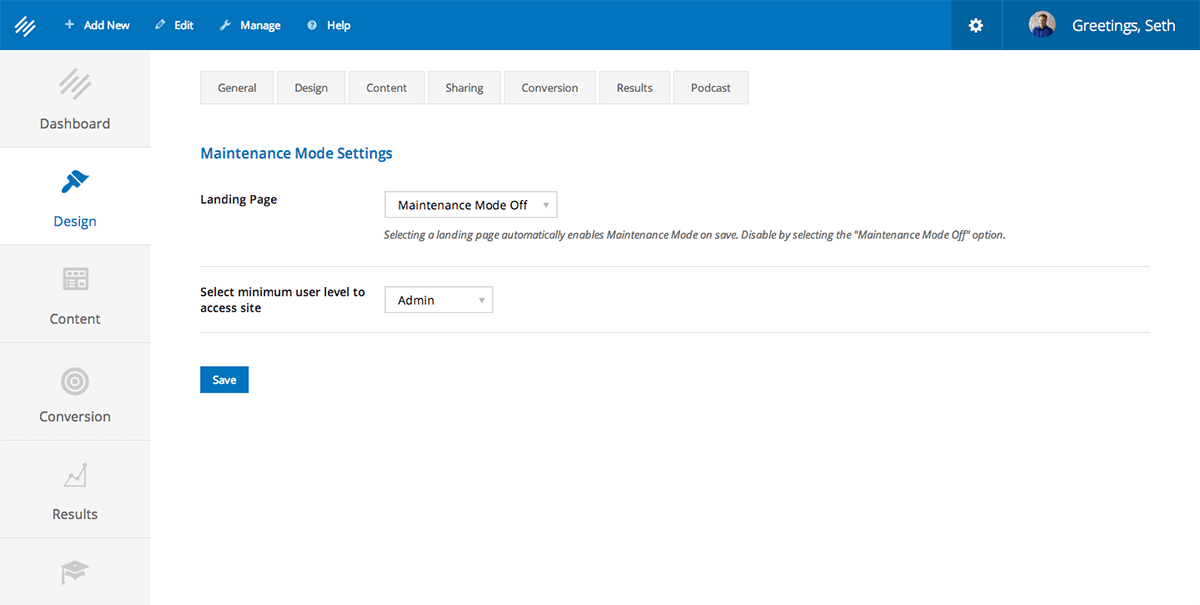 Social Sharing:
When I click on this it actually takes me to the sharing icons settings which is located under the main dashboard section. Very strange that it's located there when listed under design. Settings wise, this is using the fantastic Genesis Simple Shares plugin, which I've been testing out for several months, and feel it's probably one of the easiest and slim social sharing plugins available. Options include Google+, Facebook, Twitter, Pinterest, Linkedin, and Stumbleupon.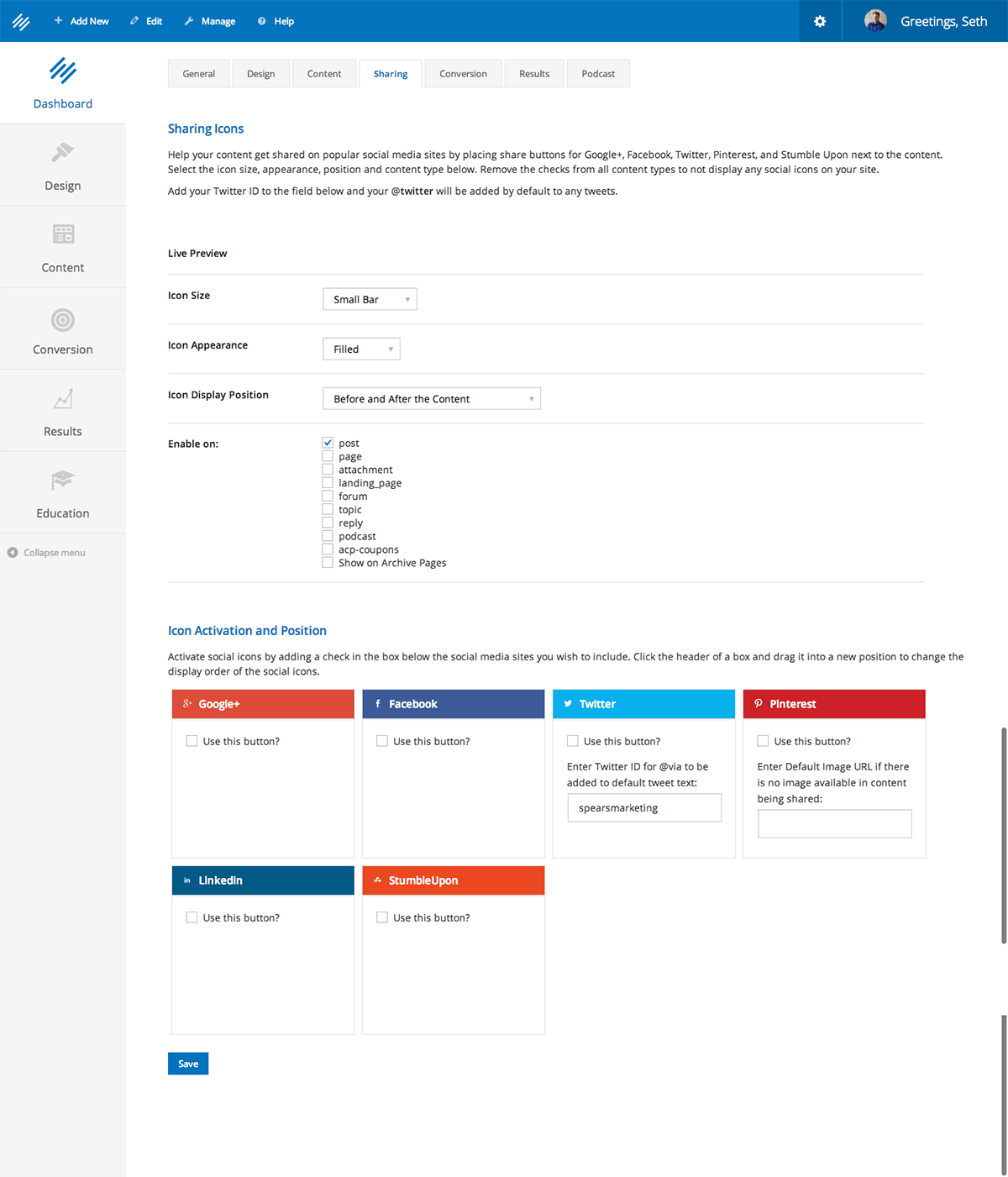 Final thoughts on the Design section
My only complaints with the design section is that when you go into a sub-section, there isn't a "back" button or navigation to get directly back to the previous section. You have to click the "Design" option in the sidebar to get back. Use of a dashboard top navigation, breadcrumbs or something similar would make it easier to know exactly where you are while editing.
Content
Under the "Content" section, you can choose from Posts, Pages, Landing Pages, Podcasts, Media, Forums, Post Categories, Post Tags, and Import/Export.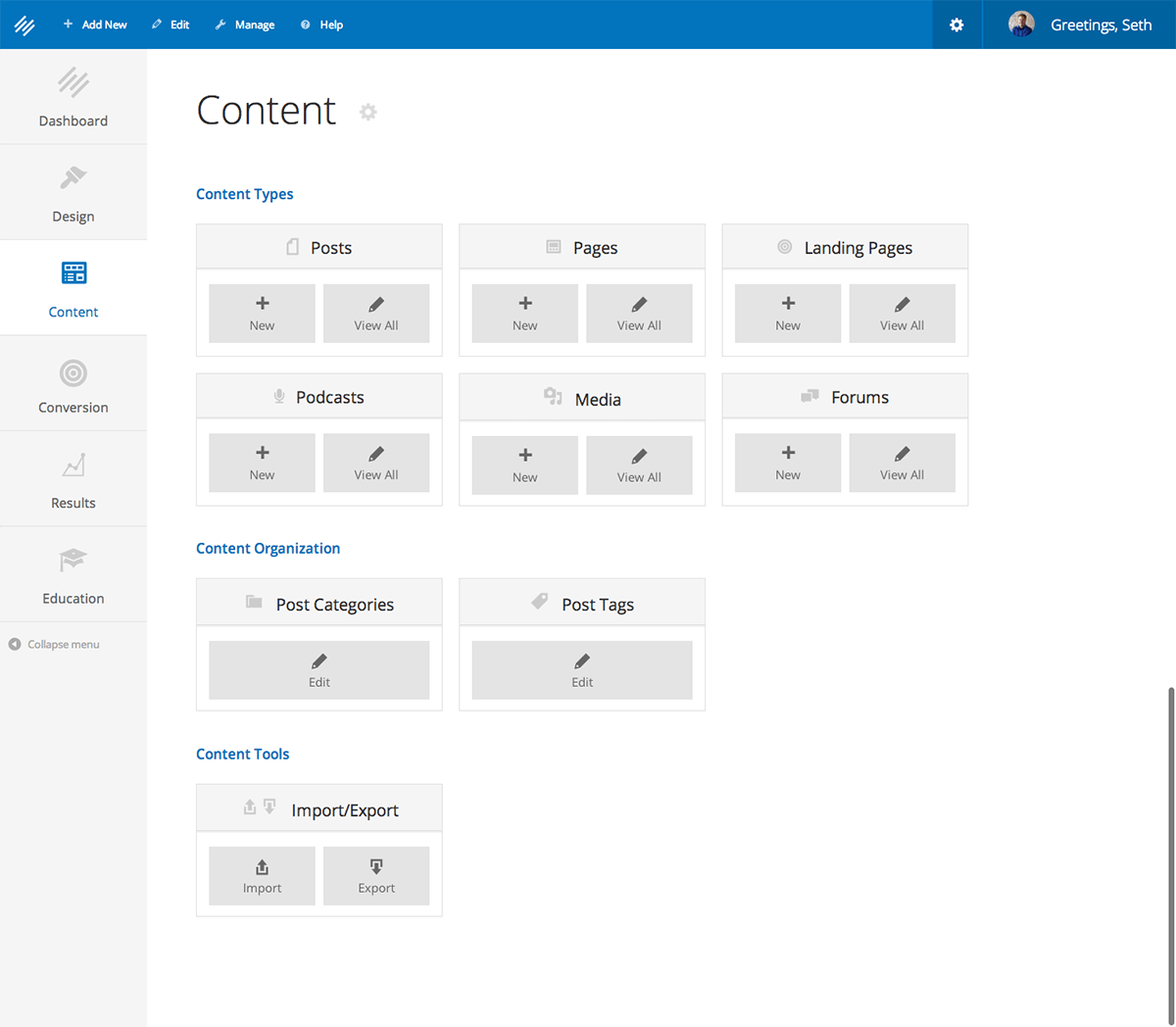 Posts & Pages
Both of these sections are very similar to the default WordPress editors, except they have better colors and typography. One of huge benefits of using the New Rainmaker Platform is that Scribe content optimization is included at no additional charge. This is one of the best SEO and content optimization services around and it's built directly into the post and page editor so you can correctly optimize your content for both human readers and Google.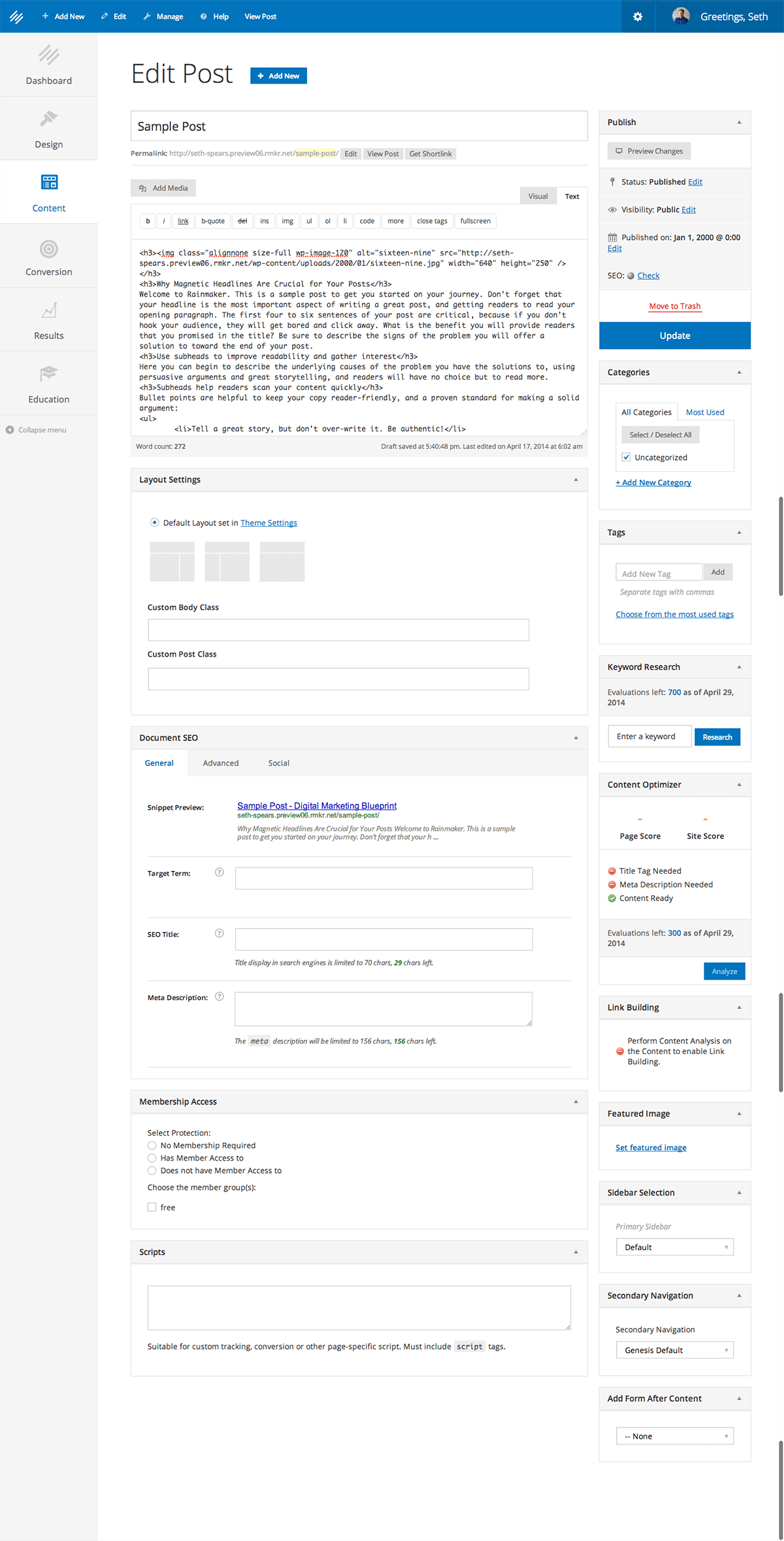 Landing Pages:
When creating a new landing page, you have the option to choose from several pre-designed templates, similar to choosing a theme in the Design section.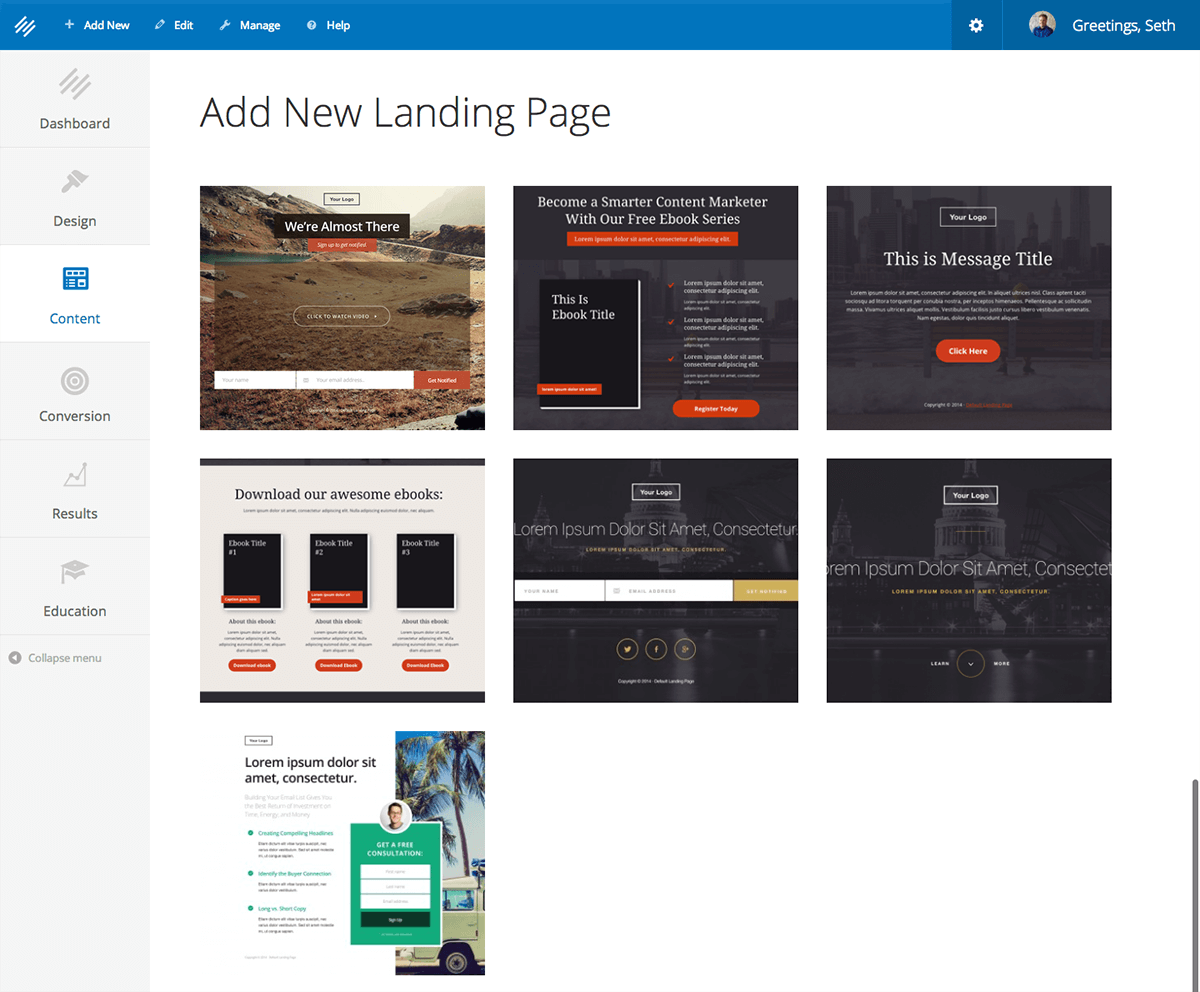 The landing pages are a WordPress custom post type created just for this type of content, but that's where the similarities to standard WordPress CPTs end. The editor is (I think) a vastly updated and improved version of Copyblogger's Premise software. There are built in sections for page headings, sub headings, calls to action, testimonials, pricing tables, social sharing, and more. You can also upload an individual logo and background image. There are built in SEO options more advanced than the default Genesis options, but simpler than Yoast's WordPress SEO plugin.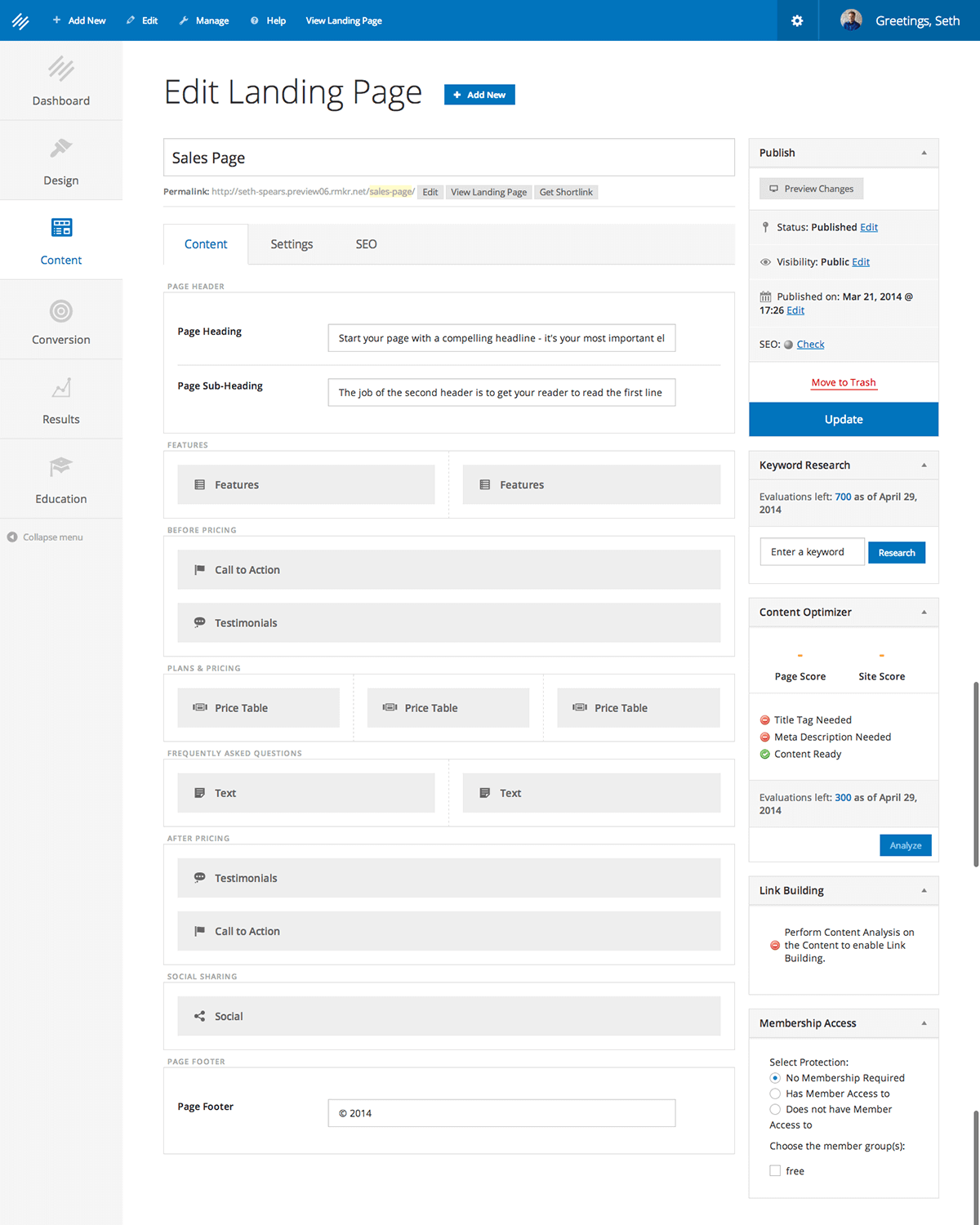 Podcasts:
This is a great feature. It's a custom post type built for podcast episodes that includes meta fields specifically tailored to podcasting, such as built in audio player, file size, episode length, ability to block from iTunes, and SEO options. Although not every user will need or want it, the fact it's built into the platform reduces a huge barrier to entry for those who want to start podcasting.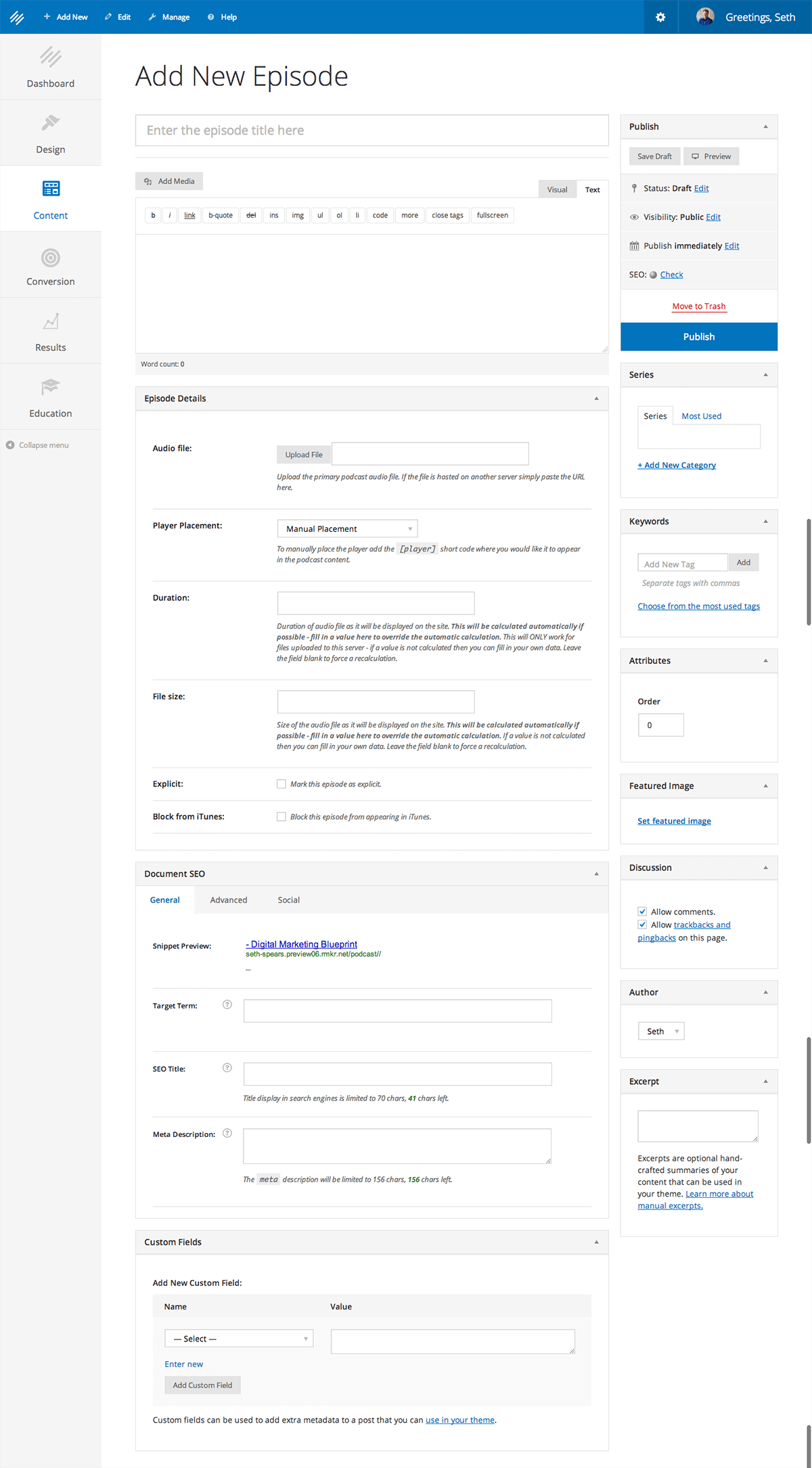 Forums:
Everyone wants a forum for a membership site, and New Rainmaker has it built into their platform using bbPress. But it's much simpler than installing bbPress yourself. All of the confusing settings and options have been removed. Creating a forum, or forums, is as easy as publishing a new blog post.
Post Categories & Post Tags:
You can create and edit categories and tags here. It's pretty much the same as the default WordPress setup.
Import/Export
Similar to the "Tools" section of a standard WordPress site, you can import content from another WordPress.com or self-hosted site via WordPress eXtended RSS (WXR) file upload. I think WXR is what they're now calling the .xml file. It doesn't appear that you can (currently) import from any other platform or type of file, but I'm guessing that will be available later.
The export function allows you to choose which type of content to export from your New Rainmaker site. All content, posts, pages, landing pages, forums, topics, replies, posts, podcasts, products, coupons, orders, downloads, notices, conversion assistants can be exported if you ever want to leave the Platform.
Final Thoughts on the Content section
The content section is clean, easy to use, and organized well. I like it just as it is.
Conversion
The conversion section includes: Conversion Assistant, Products, Coupons, Orders, Member Groups, and Download Manager. Like the previous sections above it, you can drag and drop to rearrange the items in the order you prefer.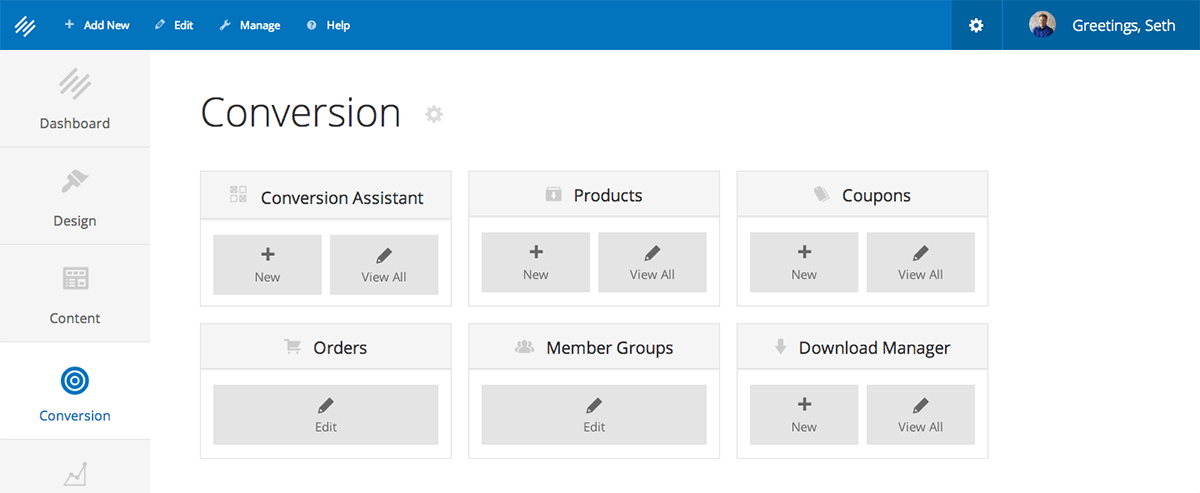 Conversion Assistant:
The Conversion Assistant section has the option to add ebooks and download libraries. Under ebooks, you can upload your book, set pricing, and connect your email marketing auto responder service for followup and drip campaigns. The download library is almost identical in layout and options to ebooks.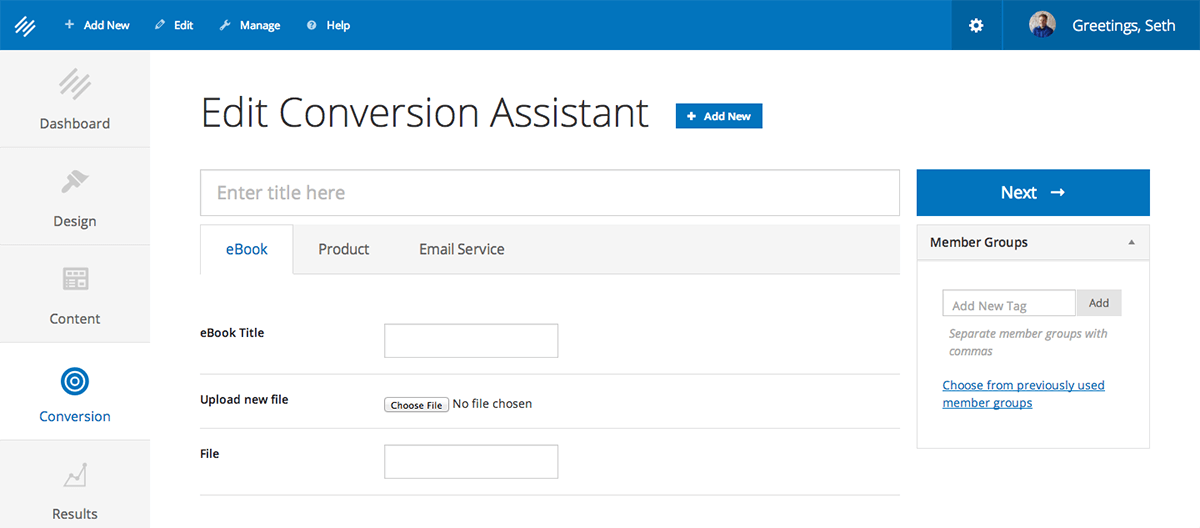 Products:
This is where you create your digital products for sale. Standard title area, description, purchase price, email opt-in, thank you page links, email receipt options, and membership group availability. It's pretty straight forward and concise, without having to really configure much.
It doesn't appear the platform currently has the ability to add physical products that can be shipped to customers. This would be a nice addition for those who need it, but that's obviously not the target market Copyblogger is looking to serve with New Rainmaker.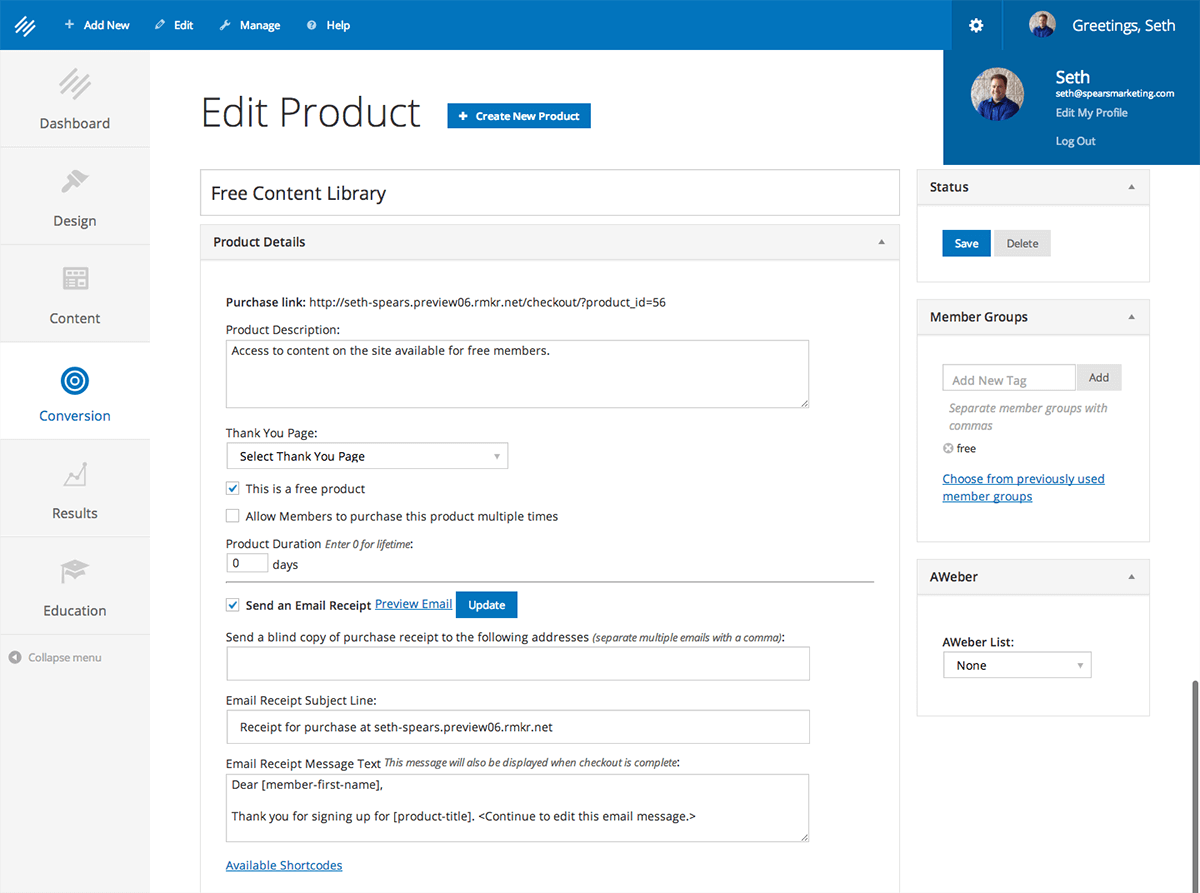 Coupons:
The coupon section allows you to choose between a percentage or flat rate, give it a specific name, apply to new or existing customers, have a start/end date, and redirect users to a specific page after application. It appears quite simple to manage. You can also use this section to run an affiliate program, as you can track users based upon coupon used and set a cookie timeframe.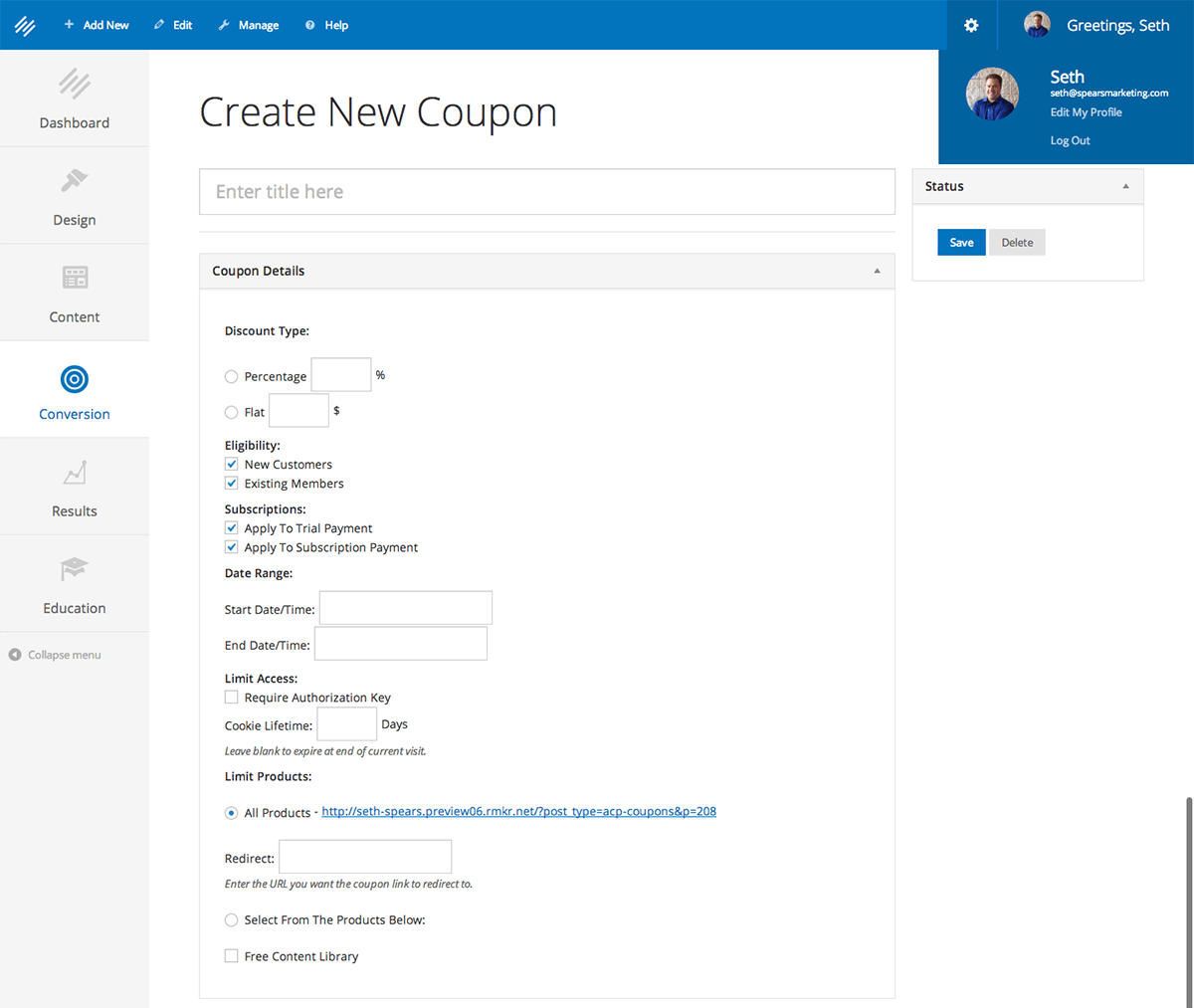 Orders:
Nothing shows up here until someone has purchased a product, but it's similar in layout to products and coupons.
Member Groups:
Member Groups appears to be a type of taxonomy, similar to categories or tags. The default one that displays is "free", which I'm guessing is for the free content library already setup by default. You can create as many different member groups as needed, which is nice for those who have a lot of products and programs.
Download Manager:
It's not readily apparent what this section does, but I think it's where you create specific content to download. Member Groups is linked via a meta box within the editor, so it's linking to that taxonomy.
Final thoughts on the Conversion section
The conversion section is very clean and easy to navigate, but could use further explanation on it's usage, as new users may be confused when first encountering it.
Results
There are three options within the results section: Website Traffic, Forms, and Conversion Reports. As with all the others, you can drag and drop to rearrange everything in this section.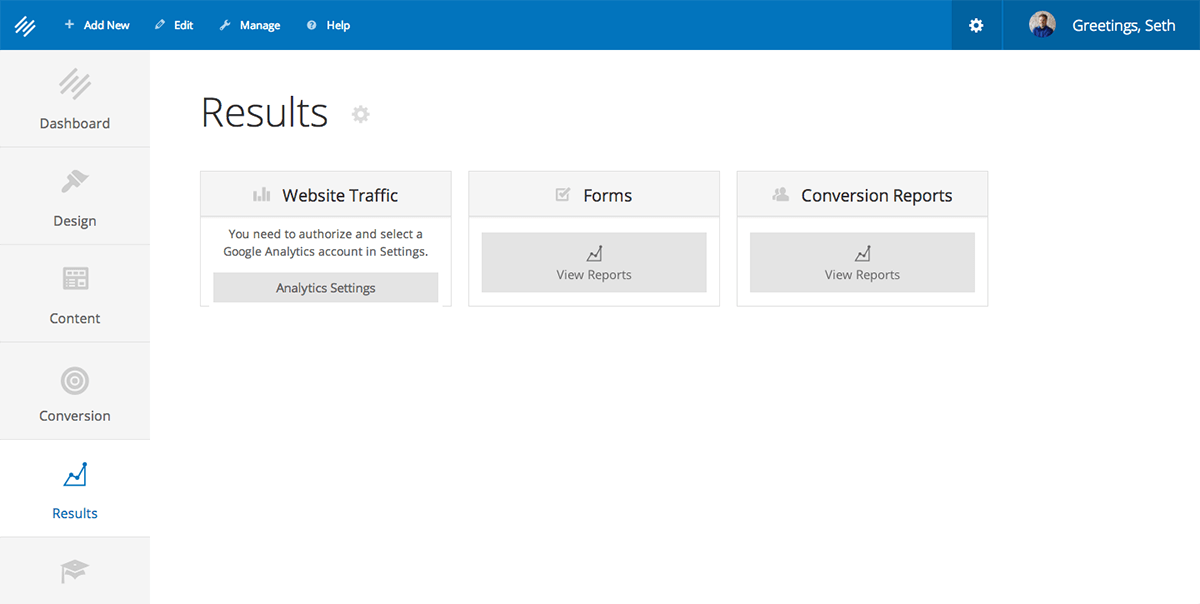 Website Traffic:
This is where you connect your Google Analytics account. What's great about this section is that you can view and track all your analytics directly from within the New Rainmaker dashboard. So much more convenient than logging into Google Analytics to view your stats.
As can be seen in the picture below, this section has a top navigation. I wish the entire dashboard had this, as the consistency would make it much easier to navigate throughout the dashboard.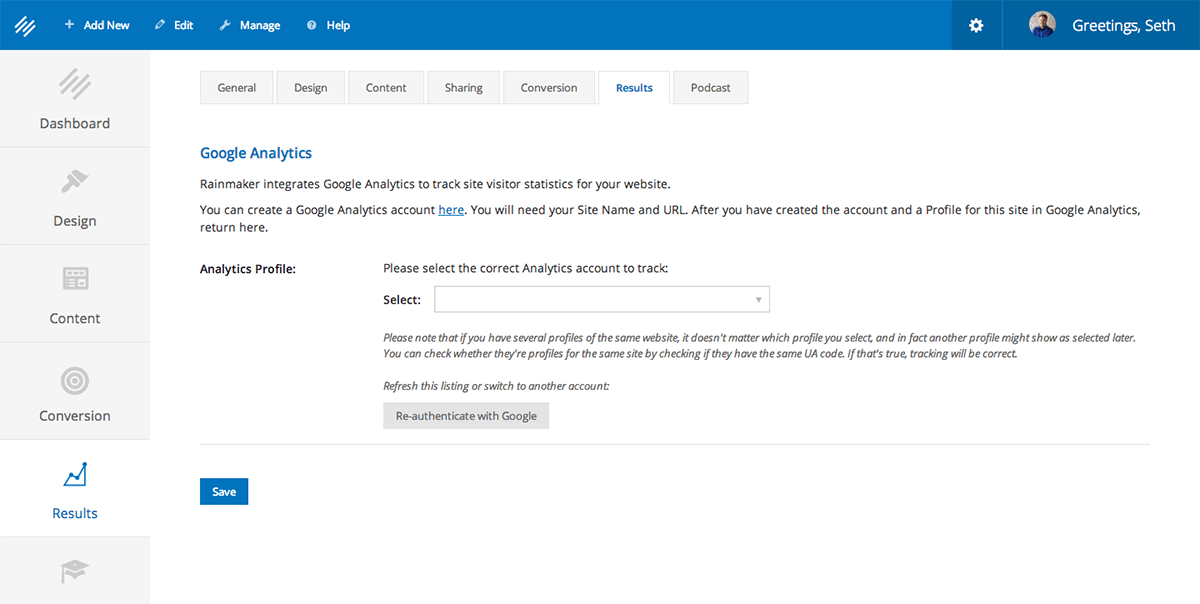 Forms:
Since no one has visited my test site yet there weren't any analytics or form submission data to display, but the option is available to choose specific forms and date ranges, along with the ability to download all form submissions. Pretty nifty.
Conversion Reports:
Conversion reports gives the option to choose individual or all products, start and end date, sales, summaries, subscriptions, and renewals. These can be viewed directly from within the dashboard, or can be downloaded via CSV file for further off-line analysis.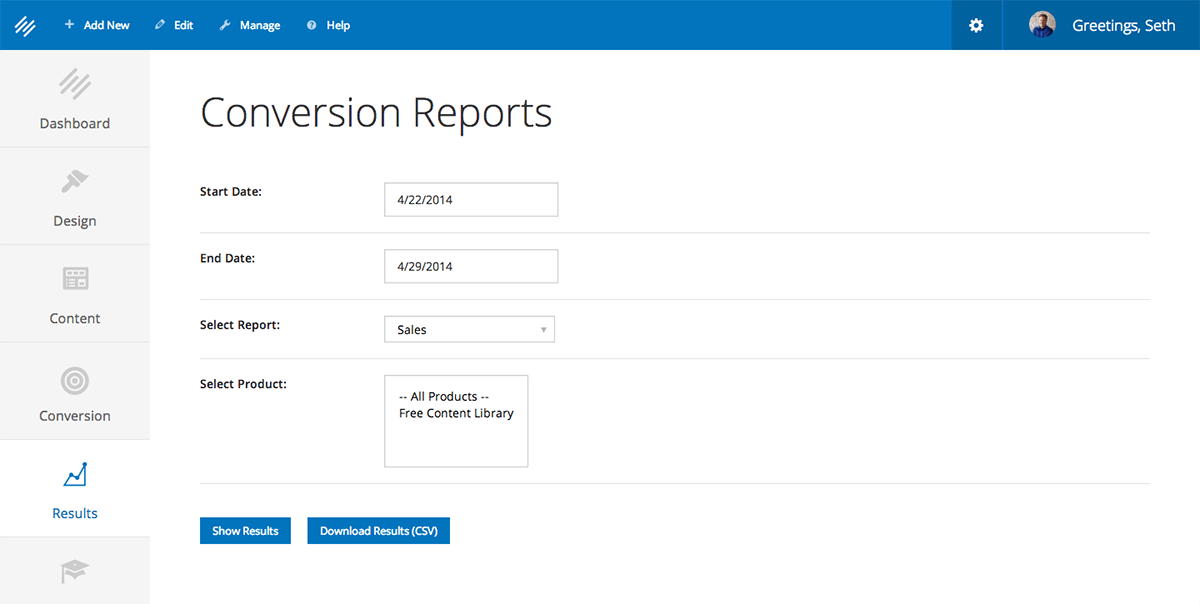 Final thoughts on the Results section
The results section is very easy to use, and once a site is built and has traffic will be an invaluable resource to track and measure your site's performance and conversion rates.
Education
The education section links directly to Copyblogger's Authority education course, which is the premier content marketing training course around. I've been a member of it for over a year, and have found it to be an invaluable resource on social media, SEO, and all things content and digital marketing.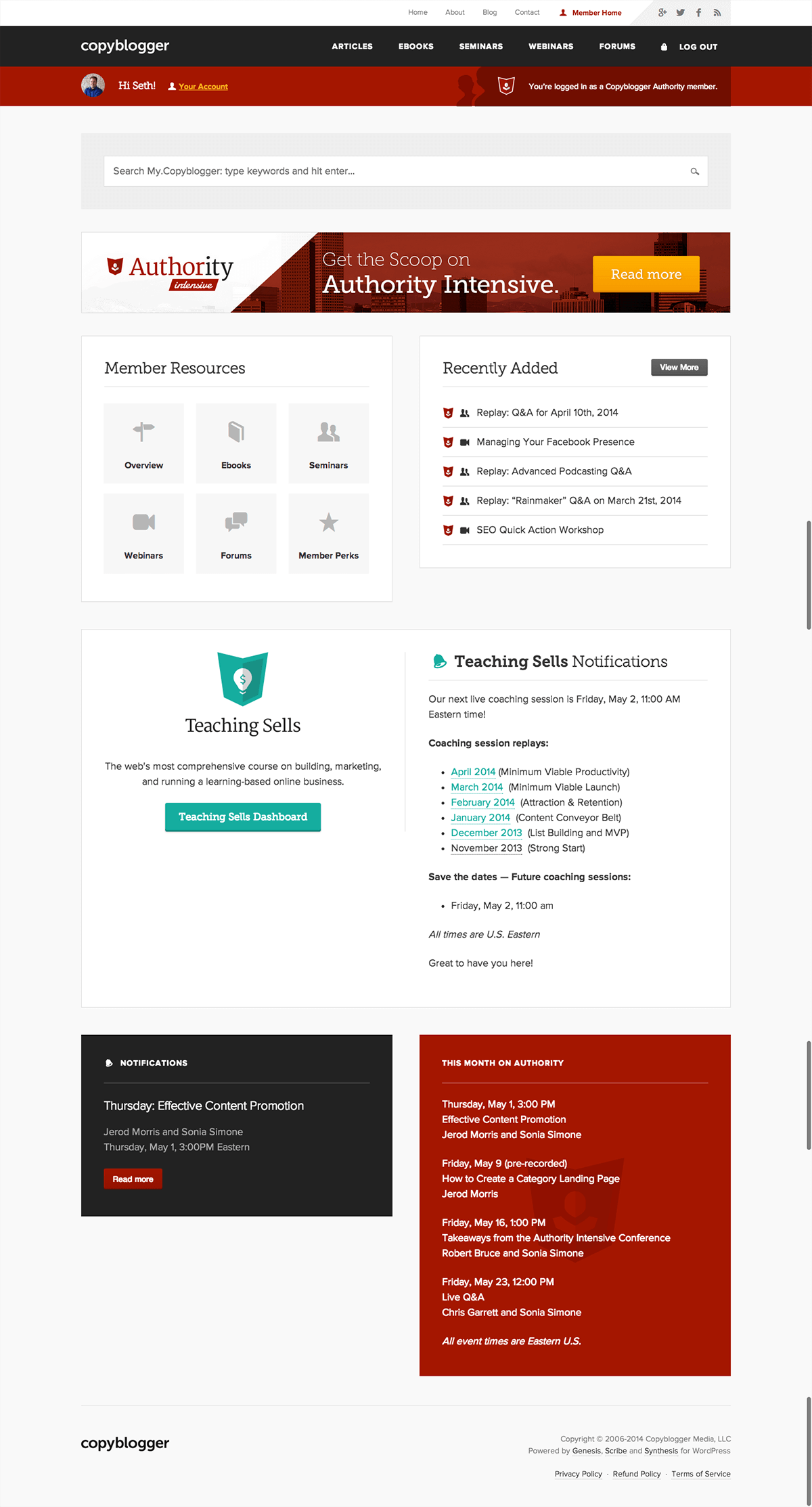 Final thoughts on the Education section:
It's great you can access all of the my.copyblogger resources and education materials, but it would be nice if it was self contained within the dashboard so you don't have to leave the site.
Pricing
As a long-time Copyblogger Media customer, I was able to get in on special introductory pricing, but even without that, at $95.00 per month or $950.00 per year, it's a great deal.
If you were to build an individual website that includes all the features, functionality, and options of the New Rainmaker Platform, here's what it would cost:
Synthesis Hosting: $324.00 -per year
Genesis Framework & all themes: $399.00 -one time fee
Scribe Software: $1164.00 -per year
Authority Training Course: $348.00 -per year
Membership/ecommerce Software: $99.00 -per year
Affiliate Management Software: $49.00 -per year
Form Creation Software: $39.00 -per year
Landing Page Creation Software: $197.00 -one time fee
That's over $2500.00 in the first year alone, and this doesn't include all the custom post types and built in help & support needed to get your site up and running.
Conclusion
Overall I'm quite impressed with New Rainmaker. The platform is simple, intuitive, and much more visually appealing than your typical WordPress dashboard. Copyblogger definitely got the design right on this one.
Potential Improvements
The features that would improve the usability of the platform is to have a top navigation or breadcrumb within the dashboard that always shows exactly where you are within the different sections. It's a pain to have to hit the back button or click on one of the five section buttons in the sidebar when I only want to go back one previous step within a specific section.
The second improvement that would make for a better user experience is to have a link to individual help topics from within each section. That way if a user is confused about anything within a particular section, he could simply click "help" and would be taken to the specific help section that relates to the issue he's experiencing. This would most likely alleviate many support requests.
Final thoughts on the New Rainmaker Platform
I really, really like the simplicity and ease of use of New Rainmaker. That being said, it isn't for everyone. There are limitations. I think the analogy of the difference between an iPhone and an Android phone works well here. With the iPhone it's beautiful and easy to use, but you are limited to only what Apple allows. The same applies here. If you're content to work within the parameters of the platform, then it will be a good fit for you.
With an Android phone it's not quite as pretty or as simple to use, but you have complete control over the software to make changes as you'd like. If you prefer the ability to tinker and change everything on your website including themes, plugins, and hosting, then New Rainmaker probably isn't for you.
Copyblogger Media has created a game changer for bloggers and content marketers who want the ability to create beautiful membership sites, optimize and sell digital content, continue their marketing education, track their metrics, and never have to worry about the technical side of their website. If you fall into this category, then the New Rainmaker Platform might just be for you.
Have you tried out the platform yet? What do you think?